TODAY'S SPECIAL: Read Genesis 13:1-17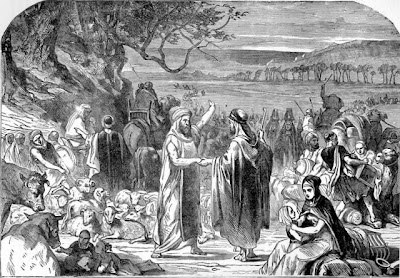 TO CHEW ON: "So Abram said to Lot, 'Let's not have any quarreling between you and me.... Let's part company. If you go to the left, I'll go to the right; if you go to the right, I'll go to the left.'" Genesis 13: 8,9
Abram did take one member of his family along – his nephew Lot. Lot also had flocks and servants. Soon their servants were fighting over the same pastures. Abram didn't want fighting. He had a meeting with Lot. "I think it's time for our families to part," he said.
Abram was the leader and the respected older person on this trip. He could have told Lot to graze his cattle on the scrubby hills while he (Abram) took his cattle to the green valley. Instead Abram let Lot have first choice about where he'd go.
What an easy decision for Lot. Of course he picked the lush green valley for himself. Besides being the best pasture land, it was near the cities of Sodom and Gomorrah where his wife could shop and he could get supplies.
If Abram was sorry about his decision to let Lot pick first, it wasn't for long. After Lot left, God met Abram again. He told him that even though Lot had picked the best, God would someday give Abram and his family all the land he could see in every direction.
PRAYER: Dear God, please help me to put others first. Amen
SUPERSIZE IT: Generosity in Action
• Here's a Bible verse about being generous. You might want to memorize it. Then you will have God's promise to generous people at your fingertips next time you're tempted to be selfish.
Give and it will be given to you. A good measure, pressed down, shaken together and running over will be poured into your lap. For with the measure you use, it will be measured to you. Luke 6:38.
• Try this:
Next time you're tempted to choose the biggest and best for yourself– STOP!
- Let someone else have first choice.
or
- Choose the dessert that's smaller, the bottom bunk, the back seat in the car or whatever tells the other person you're giving them the best.