TODAY'S SPECIAL: Ezekiel 14:1-6
TO CHEW ON: "Son of man, these men have set up idols in their hearts and put wicked stumbling blocks before their faces. Should I let them inquire of me at all? Ezekiel 14:3
The Israelites in exile soon discovered that Ezekiel heard from God. They came to him often to find out if God had something to say to them. One day when some of Israel's leaders had come to Ezekiel in this way, God gave him private information about them.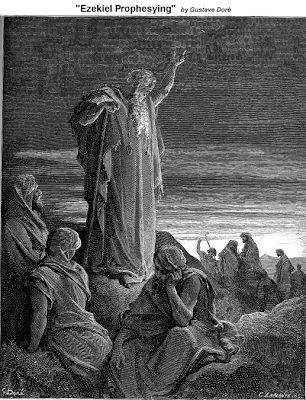 "These men have idols in their hearts," God told Ezekiel. "Tell them, 'Don't think I am going to give you messages from Me knowing all the while you are worshiping something else. You need to get rid of these idols before I will tell you anything.'"
In the past the people of Israel had worshiped actual idol statues. Here God showed that idols don't have to be physical things at all. They could be anything people admired, or trusted in, or relied on more than God. Even though these people may not have been going to actual shrines and praying to figurines, the idols were there just the same in the attitude of their hearts.
Today we may not worship idol statues either. But is it possible that we have idols in our hearts? What could those idols be? Some are money, luck, the earth, superstitions, sports and movie personalities, our own good looks, talents and abilities. Can you think of more? __________________.
Do you have any of these idols in your heart? If you were one of the people coming to Ezekiel to hear from God, what message might God be giving Ezekiel about you?
PRAYER: Dear God, please show me the idols in my heart. Help me to get rid of them and worship only You. Amen.
MORE: Modern Idols- What is an idol?
- What is a heart idol?
- Choose one of the following and explain how it could become an idol.
money, luck, Mother Nature, superstition,

sports and movie personalities, yourself