TODAY'S SPECIAL: 2 Chronicles 14:1-12
TO CHEW ON: "Then Asa called to the Lord his God and said, 'Lord, there is no one like you to help the powerless against the mighty. Help us, Lord our God, for we rely on you and in your name we have come against this vast army. Lord you are our God; do not let mere mortals prevail against you.'" 2 Chronicles 14:11
Judah's king Asa (King Rehoboam, then Abijah, then Asa) put a lot of energy into pleasing God. He started out by smashing the idols and cutting down the Asherah poles all through Judah. Then he built walls around the cities to protect them. During most of his reign there was peace.
But one day a Cushite chieftain named Zerah threatened him. Asa and his army marched to the valley where Zerah was camped. When they looked down on the huge fighting force in front of them, they had good reason to be terrified. This army was way bigger with better weapons than theirs.
But Asa didn't panic. Instead, he went right to God. He prayed the prayer above (2 Chronicles 14:11), telling God that He was the only one who could defeat Zerah's army and pleading with God to help them. Then he and his men went into battle.
What happened next? (2 Chronicles 14:12) ___________________.
Though God was with Asa, he didn't have a perfect, problem-free life. But when problems came, he knew he didn't need to face them alone. He could bring them to God.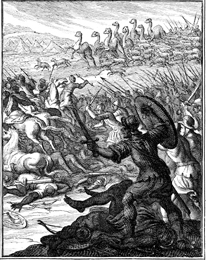 In the same way God will not keep trouble away from us. But like Asa we can ask for God's help when troubles come to us too.
PRAYER: Dear God, thank You for being strong enough for every problem in my life. Amen.
MORE: Your Own Prayer for Help
What big problems do you face. Perhaps you're being bullied at school, or there is trouble in your family, or someone you love is very sick. You can ask for God's help with your problem, just like Asa did.
Change Asa's prayer into a prayer of your own. Then pray this prayer every day and watch what God will do!
Lord, there is no one like you to help the powerless against the mighty. Help me, O Lord my God, for I rely on you and in your name have come against this (name your problem) ________. O Lord, you are my God; do not let (name your problem) _________ prevail against you. Amen.

Answers