TODAY'S SPECIAL: Ruth 1:1-18
TO CHEW ON: "But Ruth replied, 'Don't urge me to leave you or to turn back from you. Where you go I will go, and where you stay I will stay. Your people will be my people and your God my God. Where you die I will die, and there I will be buried. May the Lord deal with me, be it ever so severely, if even death separates you and me.' " Ruth 1:16,17
Naomi was sad. As she trudged down the road toward Israel she thought of the last time she had been on this road. Then she had been with her husband and her two sons. Then, even though they were hungry because of a famine, they were together.
They had found plenty to eat in their new home in the country of Moab. But something terribly sad had happened too. Naomi's husband and both her sons had died there.
Now she was on her way back to Israel – alone. Well, not exactly. Because beside her walked Orpah and Ruth. They were her daughters-in-law. These women her sons had married were now widows too. But she was sure they didn't really want to come back to Israel with her. It was time to say goodbye.
"Go back to your families," she said to them. "Find new husbands and have children."
Both of the girls said, no, they would stay with her. But Naomi insisted. And so Orpah kissed and hugged her a final time and turned around. But Ruth wouldn't leave. "I want to go where you go," she said, "and stay where you stay. I want your people to be my people and I want your God to be my God."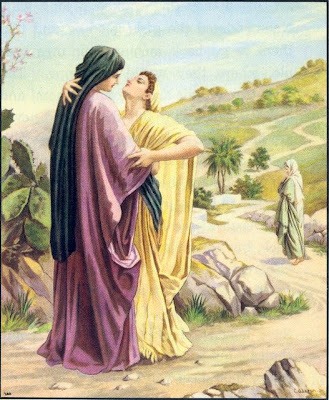 How do you think Naomi felt when she heard this?
Now Naomi knew that in Ruth she had a true and loyal friend. She still felt sad and missed her husband and her boys. But because of Ruth's friendship, she wasn't alone.
PRAYER: Dear God, show me how to be a true friend like Ruth was to Naomi. Amen
MORE: A good friend is...
What makes a good friend? What qualities, below, would you want your friend to have?


Can you think of more?