TODAY'S SPECIAL: 2 Kings 5:15-27
TO CHEW ON: "When he went in and stood before his master, Elisha asked him, 'Where have you been, Gehazi?'
'Your servant didn't go anywhere,' Gehazi answered" - 2 Kings 5:25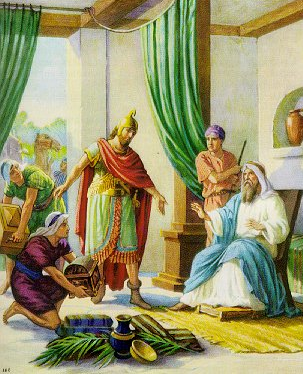 After he had left, Elisha's servant Gehazi couldn't get the thought of Naaman's gifts out of his mind. My master was too easy on Naaman, he thought. But I'd sure like some of those things.
He ran after Naaman's carriage, caught up to it and said, "My master has changed his mind. He has visitors and could use some of your gifts."
"No problem," Naaman said. He loaded two servants with many pounds of silver and two new sets of clothes.
When they came near to Elisha and Gehazi's house, Gehazi took the things from Naaman's servants and sent them back. Then he hid the clothes and money in his room before he went to wait on Elisha.
"Where have you been?" Elisha asked him.
1. What did Gehazi answer? (2 Kings 5:25 ) ____________
He should have been smarter than to try and hide anything from God's prophet. For God had told Elisha exactly what had happened. "Didn't I see you when you approached Naaman's carriage?" Elisha asked. "This isn't the time to collect stuff."
2. Then Elisha told Gehazi what his punishment would be. What? (2 Kings 15:27) _______
Gehazi learned the hard way that it never pays to tell a lie.
PRAYER: Dear God, I can never fool you with a lie. Help me to learn that. Amen.
MORE: Old Lies
Have you ever told a lie and got away with it? Are you sure there is no one who knows about the lie you told?
Though you may never get found out the way Gehazi did, there is Someone who knows. God. And His opinion about lying is clear. He doesn't approve of it and tells us in Proverbs that our unconfessed lies will eventually be punished (Proverbs 19:5,9).
Here are some things you can do to take care of old lies.
1. Admit they are sin and confess them to God.
2. Confess those lies to the people you lied to.
3. Ask God to help you recognize and overcome the habit of lying – in both words and actions.