TODAY'S SPECIAL: Daniel 1:8-20
TO CHEW ON: "But Daniel resolved not to defile himself with the royal food and wine, and he asked the chief official for permission not to defile himself this way." Daniel 1:8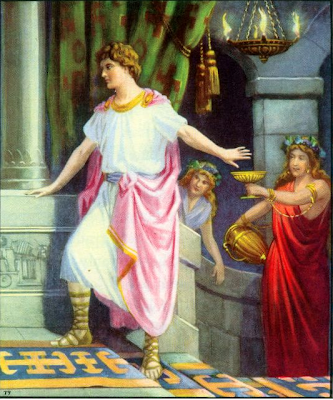 "Can you please change the diet of me and my friends?" Daniel asked the guard. "We'd like to have vegetables and water instead of the king's rich food."
"You're asking a dangerous thing," the guard replied. "The king will have my head when the four of you look weak and get sick."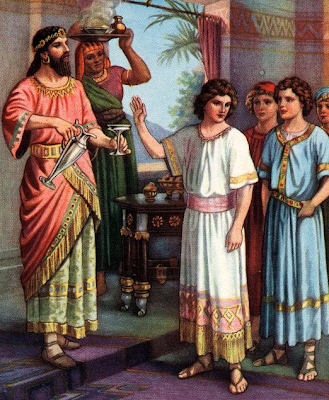 Daniel was taking a big chance by asking this favor from the guard in Nebuchadnezzar's court. He and his three friends were Hebrew boys from Judah. They no longer lived at home but were exiles and servants in Babylon. The four boys were in special training to serve the king himself.
But Daniel was determined. He knew that the royal food was not prepared the way God had commanded in the law. He wanted to honor and obey God every way he could.
"How about we try an experiment?" he suggested to the guard. "You let me and my friends have the vegetables and water for ten days. Then you compare us to the others. If we look worse, we'll eat what everyone else does.
The guard agreed. For ten days Daniel and his friends ate only vegetables and drank only water. Then the guard compared them to the others.
1. What did he find? (Daniel 1:15)? _____________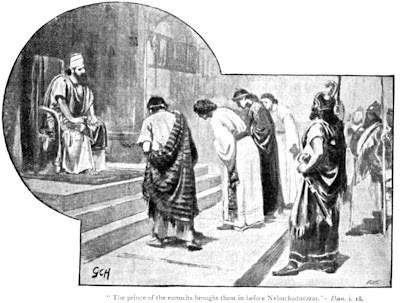 2. What did the guard then order for the other students too (Daniel 1:16)? ____________
Like Daniel we may be surrounded by people who don't believe as we do. We may be tempted to compromise and change our actions to fit with theirs. After all, it's hard to be the only one going to church on Sunday, giving some of your money to God and obeying your parents. But take courage from the story of Daniel and his friends. Refuse to compromise. For God not only blessed Daniel and his friends with favor from the guard when they honored God with their diet. He also made them wise and gave them success with the king himself.
PRAYER: Dear God, please help me to not compromise in my life. Amen.
MORE: Daniel Diet
Have you ever been on a diet of vegetables (fruits, vegetables, seeds and nuts) and water like Daniel and his friends were? Try it for a day (of course you'll want to get permission from your parents first).
Some things that will help fill you up:
vegetables (carrots, celery, broccoli, corn)
nuts (almonds, peanuts, peanut butter)
seeds (popcorn, sesame seeds, sunflower seeds)
fruits (orange, apple, banana)