TODAY'S SPECIAL: Genesis 24:12-20, 57-61
TO CHEW ON: "Then he prayed, 'O Lord, God of my master Abraham, make me successful today, and show kindness to my master Abraham.'" Genesis 24:12
Abraham sent his servant on an errand. He was to find a wife for Isaac among Abraham's relatives far away. This was a hard job. As the servant traveled he wondered how would he ever find Abraham's family, let alone know which was the right girl.
When he got to the faraway land, he still didn't know what to do. He found a well and sat there to rest. As he rested he prayed, "God please help me find the right girl. May it be the girl that when I ask her for a drink, she'll offer to water my camels too. If that happens, I'll take it as a sign that she's the right girl."
Before he finished praying beautiful Rebekah came to the well.
Unscramble the words to find out what the servant said and how the girl answered him (Genesis 24:17-19)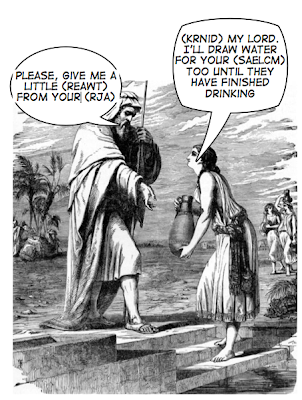 Could this be the right girl?
It turned out Rebekah was also one of Abraham's relatives. When the servant explained his errand to Rebekah's family they asked her, "Will you go?" and she answered, "I will go."
You too can ask God for help with your work. Do it today. The answer may take a while to come, or it may appear before you finish your prayer!
PRAYER: Dear God, today please help me with _________________________ (name a job you must do today). Amen
MORE: Memorize this!
Here is a Bible promise about prayer. You may want to memorize it to remind you to ask for God's help with anything and everything!
"Before they call I will answer; while they are still speaking I will hear." Isaiah 65:24