TODAY'S SPECIAL: Joshua 7:10-25
TO CHEW ON: "Israel has sinned; they have violated my covenant, which I commanded them to keep. They have taken some of the devoted things; they have stolen, they have lied, they have put them with their own possessions." Joshua 7:11
Have you ever done something sneaky – stolen something, told a lie, or cheated on an exam? Achan did such a thing when he went into Jericho. He had heard Joshua's command about what to do with the loot. But when he saw a beautiful robe, some silver coins, and a wedge of gold, he sneaked these things home, dug a hole inside his tent and hid them in the ground.
A few days later Joshua sent scouts to Ai, the next city. "It's a small town," the scouts reported when they got back. "We'll only need part of the army to capture it."
But the people of Ai chased the Israelites from their city, beat them and killed many soldiers.
Joshua and the people were stunned. Joshua fell on his face before God and asked, "Why didn't you help us?"
"Get up!" God told him. "There's sin in the camp. Someone has stolen and lied. You need to deal with this sin before I can help you again."
The next day Joshua called the people to a meeting to see who was guilty. He had the tribes pass before him tribe by tribe. The tribe of Judah was picked. From the tribe of Judah the clan of Zerah was picked. From the clan of Zerah the family of Zimri was picked. From the family of Zimri, the man Achan was picked.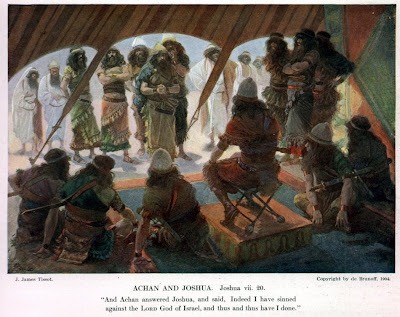 "What have you done?" Joshua asked him.
Then Achan confessed. And when the men looked in his tent, sure enough, there was the evidence. So Achan and his whole family had to die that day because of his sin. Then God helped the people win over Ai.
What about you? Did you get caught for the sneaky thing you did? Even if you didn't, God knows about your sin. It may be hidden from others but it isn't a secret to Him. Don't be like Achan and wait to get caught. Instead, confess your sin to God and make things right with anyone you've wronged now. Only then will God's blessing rest fully on your life.
PRAYER: Dear God, You see the wrong things I've done. I'm sorry for them. Help me to make things right. Amen.
MORE: A God-sees verse
These verses remind us that God sees us always, everywhere and knows everything about us.
"O Lord, you have searched me and you know me. You know when I sit and when I rise; you perceive my thoughts from afar. You discern my going out and my lying down; you are familiar with all my ways." Psalm 139:1-3
You could memorize it. Then next time you're tempted to do something sneaky, you'll remember – God sees!