TODAY'S SPECIAL: Exodus 25:23-40
TO CHEW ON: "A talent of pure gold is to be used for the lampstand and all these accessories." Exodus 25:39
Next God gave Moses instructions to make more things for the tent church. He was to make a table and carrying poles out of the same special wood as the ark (acacia wood). He was to cover these things with pure gold.
Then he was to make plates, dishes, pitchers and bowls as well as a decorated lamp stand and all the tools for tending the lamps. These things were also to be made of pure gold. God told Moses to use a whole talent (75 pounds or 34 kilograms) of gold for these things.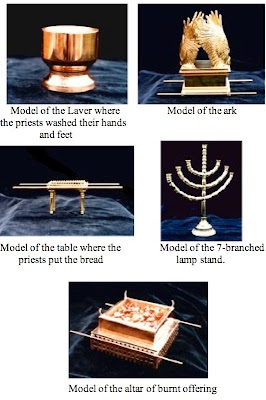 Why do you suppose God chose gold?
Some reasons might be:
1. Gold was the easiest metal to shape into designs.
2. Gold was long-lasting. It was unaffected by air, heat, moisture, and was hard to dissolve.
3. Gold was beautiful, with its bright yellow color and shine.
4. Gold decorations and jewelry showed royal power and honor.
5. God was rare, much wanted, and expensive.
In other words, gold was the best!
Still today God asks for our best – not gold furniture or dishes, not even our best or most beautiful possessions. Even the poorest of us has this and can give it to Him. It is our lives.
PRAYER: Dear God, help me to give You my life, and to live for You today. Amen.
MORE: Modern Gold
1. Gold is still a rare and valuable material, used in many ways:
Electronics. There is gold in washing machines, computers, televisions, even space craft.
Dentistry. Gold is mixed with other metals to make fillings for teeth.
Jewelry and watchmaking. 'Plating' is a way to cover jewelry and many other things like pens, frames for glasses and bathroom fixtures, with gold.
Gold leaf. Gold is hammered very thin and spread onto domes and roofs of public buildings. It lasts longer than paint!
2. Can you calculate how much a talent of gold (75 pounds or 34 kilograms) would be worth at today's gold price?