TODAY'S SPECIAL: Genesis 37:12-36
TO CHEW ON: "... So Joseph went after his brothers and found them near Dothan. But they saw him in the distance, and before he reached them, they plotted to kill him." (Genesis 37:17b,18)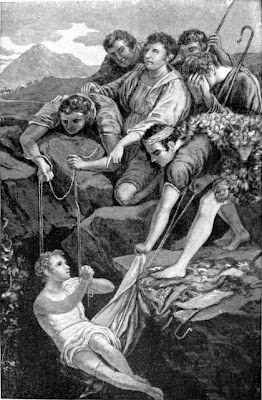 Joseph's brothers were far away from home, herding their father's flocks. One day Joseph's father Israel (also called Jacob) sent Joseph to see how his brothers were getting along. Finish the story by filling in the answers from the words at the bottom:
When Joseph was still far away his brother recognized him and planned to 1. _______ (Genesis 37:20).
When he got there they 2. ________ and 3. _________ (Genesis 37:23,24).
But they didn't kill him. Instead they 4. ____________ (Genesis 37:27)



*****************************
threw him in a cistern
stripped off his coat
sold him to the Ishmaelites
kill him
****************************
Jealousy grew in Joseph's brothers from hatred to thoughts of murder. Our jealous thoughts can grow in the same way. But that doesn't have to happen. Instead we can take our jealous feelings to God. We can ask for His help to work through them.
PRAYER: Dear God, help me to deal with jealousy in my life. Amen.
MORE: Dealing with the jealousy monster
Here are some ways to deal with jealousy. Cross out the one that doesn't belong.
1. Admit your jealousy and call it what it is – sin (Galatians 5:19, 20,21).
2. Ask for God's forgiveness (1 John 1:9).
3. Ask God for wisdom to deal with jealous feelings (James 1:5).
4. Accept yourself as God made you (Romans 12:3-8).
5. Accept that it's okay to be jealous once in a while because the temptation is hard to resist, and no one is perfect (1 Corinthians 10:13).
6. Accept the circumstances of your life (including the thing that makes you jealous) as something God can turn into good (Romans 8:28).